Hello All,
We are very excited to announce that we are now offering Amethyst ( FIR) Therapy Sessions as a stand alone treatment or as an add on to any of our healing services. Enjoy a 30 minute bio-therapy session in our private healing suite and experience the immediate benefits of this scientifically backed therapeutic treatment.
Book your session ahead of time for the low price of $20.00 or as an add on to any of our therapy session at the discounted price of $10.00. It is recommended that for maintaining optimal health the Amethyst far infrared bio-mat should be used up to three times a week for thirty minute sessions.
What are far infrared rays?
Far infrared rays are part of the electro-magnetic light spectrum and are close to the light frequency of natural sunlight. However, far infrared does not contain any of sunlight's harmful UV/UVB radiation. The beneficial properties of far infrared light have received particular attention from the scientific community in recent years, although the first research conducted on this part of the light spectrum was undertaken by NASA decades ago. Today, health practitioners from a wide range of disciplines agree on the beneficial properties of far infrared technology.

How does amethyst quartz enhance ionic and far infrared ray therapy?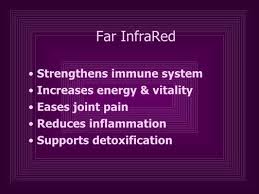 Amethyst's healing properties have been acknowledged and celebrated for centuries by ancient scientists, healers and others. Now, modern science has confirmed the highly conductive properties of this remarkable mineral. Amethyst crystals offer the most consistent and powerful delivery of far infrared light waves, and ionic effects to the human body.
What specific conditions and symptoms can the BioMat treat?
Because the BioMat's far infrared rays penetrate deeply into the body and promotes our natural state of health and balance, it can be used to treat a wide range of health issues.
US FDA's Medical Device 510K indications for use:
Relaxation of muscles,
Increase of local circulation where applied
Temporary relief of:
Minor muscle pain
Minor joint pain and stiffness
Joint pain associated with arthritis
Muscle spasms
Minor sprains
Minor strains
Minor muscular back pain
Other benefits found from the BioMat:
Reduces stress and fatigue
Soothes and relaxes
Supports the immune system
Improved sleep (if associated with pain relief)
Reduced inflammation (where applied)
Promotes relaxation by application of heat
Promotes restful sleep for those with occasional sleeplessness